Full Press Article 18 Oct 1979

Signals Remain Mystery
Radio signals picked up by Bridlington hearing aid practitioner Mr. Raymond Cass remain a mystery, seven years after he first started receiving them.
Mr Cass has heard that British scientists at a Western Tracking station near Darmstadt, Germany have failed to identify the source of the voices which are in polyglot, a mixture of tongues. The scientists have been investigating signals of this kind from all over the world since 1975.
The tape transcripts supplied by Mr. Cass, like all the other signals, were put through a computer and subjected to digitalisation which eliminated background noise.
Mr. Cass, who picked up the mysterious signsla on a powerful radio receiver while at his Hull office, said: " The general consensus of opinion is that we are getting an overlap from another level of consciousness from an intelligence on this planet which is invisable to us".
He collected over 2,000 examples of the mysterious sounds but has since 1977, been unable to pick up the signals.
"You get a sentence of six words with two words in English, two in Swedish and two in German," he said.
BBC television will be broadcasting a series of six documentaries on unexplained phenomena eraly next year. One is devoted to Electronic Voice Phenomena and Mr. Cass will be featured with his recordings.
---- End of Article ----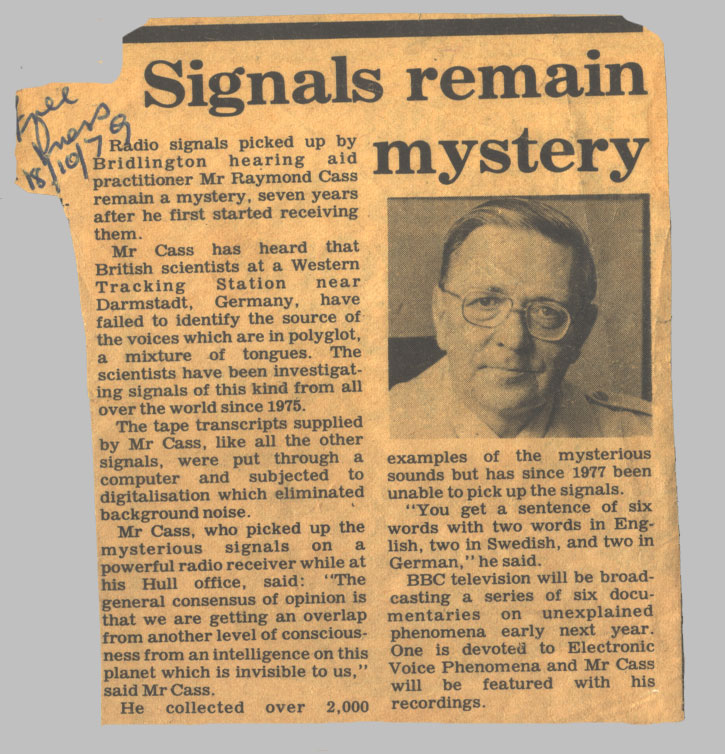 Other UK EVP Pioneers: G. Gilbert Bonner
For any information please contact us at the email address below.